HELPING YOUR BUSINESS
Understanding website terms: "Above the fold"
You might have read some articles about web design that talks about "above the fold". What does above the fold mean? And how does knowing its definition make it easier for you to determine what your site needs?
The term "above the fold" originates from how newspapers were stacked for delivery and put into newsstands. The newspaper is basically folded in half, and the half you see as you walk by a newsstand is the part that's "above the fold."
It has great significance because it's the very first thing someone sees, and that will determine if they begin spending a little bit of their attention to your information.
For your website, it's the portion that gets loaded first and appears on the screen without the user having to scroll down. It usually consists of the navigation panel, logo, and an area of screen space called the "hero area", which will include your most important text, images/videos, and a prominent Call-To-Action (CTA).
Why is it important to know this term?
According to Jacob Nielsen, a website visitor spends 80% of their online time viewing information above the fold. It's where they make the decision of engaging with you.
That's why, when we design websites, we spend so much time on the home page AND that area, to help you get the look, feel, information, and call-to-action right.
If you have any concerns about what that is on your site, head on over to prowebsitecreators.com and send us a chat or email us!
Read the rest of the article here: https://whatis.techtarget.com/definition/above-the-fold
Straightsource Avatar might be the answer to your customer service outsourcing needs
We would like to showcase a product from one of our long-time website clients. It's called "Avatar".
Avatar is a program that allows your callers to follow an automatic script using a human, recorded voice that sounds friendly and professional. Each call is handled by a live call center staff who monitors the conversation and responses.
This program assures that your "Callers" will never have a bad day!
Because all of the possible responses are researched and monitored, Avatar never has a bad day. Imagine the possible results if used for sales, lead generation, surveys, fundraising, and many other applications.
Through Avatar, their clients experience 50-75% higher positive response rate than traditional outbound calling services.
Watch this video for more information: https://straightsource.com/avatar/
Security Issues and Updates
Don't get fooled by a phishing email targeting WordPress users
An email that looks very similar to a legitimate email from WordPress is being sent around to trick WordPress users to "upgrade".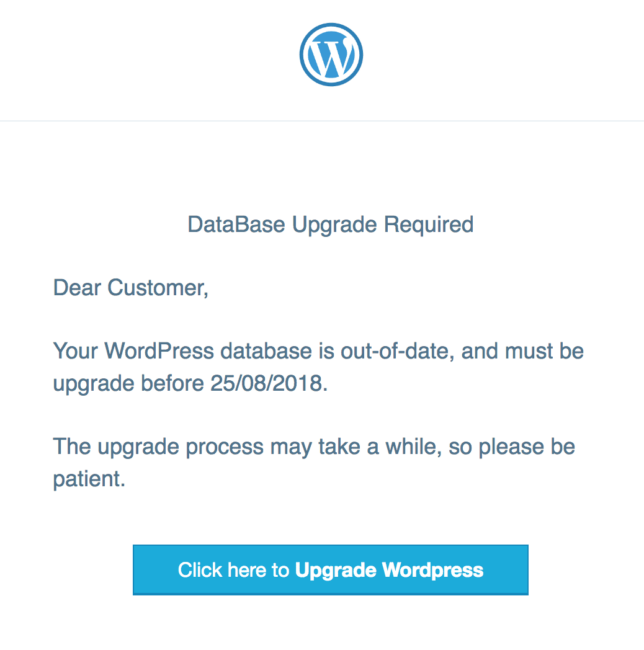 We would like to remind you that WordPress wouldn't define deadlines without a valid explanation, and hosting providers wouldn't either (if you believed the email was from them).
This main goal of this spam is to get you to send over your login credentials which will then be sent to the attackers.
Read the full article here: https://blog.sucuri.net/2018/09/wordpress-database-upgrade-phishing-campaign.html
The Site of the Month
Check out www.straightsource.com
straightsource.com is another oldie but a goodie.
Straightsource is a global outsource services enterprise consisting of five companies ready to provide you with over 44 Best in Class services for every aspect of your business.
If you want to check out their services visit: straightsource.com
Have a great rest of the month, and let us know how we can help you!