WORDPRESS UPDATES
This month, Our clients' websites have been upgraded and are now running on WordPress 5.1.1, which is the latest and greatest. This update contains bug fixes, enhancements, and security fixes.
To see the full list of fixes, read this article: https://wptavern.com/wordpress-5-1-1-patches-critical-vulnerability
HELPING YOUR BUSINESS
Single Gmail Address = Infinite Uses
Did you know that a single Gmail address can be used infinitely? Adding periods or symbols anywhere in front of '@gmail.com' gives you a unique email address but the incoming emails will be routed directly to your original Gmail address.
For example:
Now the question is, why use this feature? Filters and isolating potential spam sources.
Filters: Maybe you want to use an email address for all of your newsletters you signup for. They can all go into something like [email protected]
Spam isolation: with a unique email address for every site you need to give your email address to, if you start getting spam at one of them, you know who's the culprit!
Testing: you can create unique IDs based upon a unique email address for testing your websites like multiple optin submissions or accounts. For example, with one of our e-commerce clients, Dave has different accounts with different privileges for testing: [email protected] and [email protected]
By using alternative email addresses, you can easily filter which emails you want to read, may it be personal emails, work emails, newsletters and more.
Easily create, store and protect your passwords
Our advice from day one is to make sure you use different passwords for all of your accounts, with the main reason being if someone gets ahold of your password for one account, and you don't have them unique, you've just given them access to EVERYTHING online! However, with the numbers of websites you probably have accounts on, it's difficult to manage all your various passwords.
Enter Password Managers. For the PWC team, we are using KeePass. It stores all passwords in one place, generate VERY unique passwords and it's FREE!
If you want additional features such as 2 Factor Authentication support and autofill forms, Dave personally uses 1Password. It costs a little bit but works REALLY well and saves him time.
LastPass is a great option too.
KeyPass: https://keepass.info/
1Password: https://1password.com/
LastPass: https://lastpass.com
Delicious homecooked meals made easy! Try Blue Apron.
Blue Apron is a weekly subscription box that delivers seasonal recipes, and the food to make those recipes, at your doorstep.
All you have to do is follow the easy step-by-step recipe card per meal. The ingredients per recipe come pre-proportioned so nothing is wasted. And all recipes can be prepared under 40 minutes!
If you want to ditch fast food and switch to healthy homecooked meals, give Blue Apron a try! Dave has tried it, and it really is fun preparing it with family and it certainly provides a great variety.
Visit www.blueapron.com
Security Issues and Updates
MySQL will be upgraded to 5.7 and PHP to 7.2
Part of the service we render is keeping your website(s) up-to-date. This coming month, we will be upgrading MySQL to 5.7. Expect that your website(s) will be down very briefly, if at all. We'll be scheduling this during late evening times and we'll let you know when this will happen.
We're also in the process of upgrading your website(s) to use the latest programming language version, PHP 7.2. This is important for security and performance reasons.
The Site of the Month
Check out shamamama.com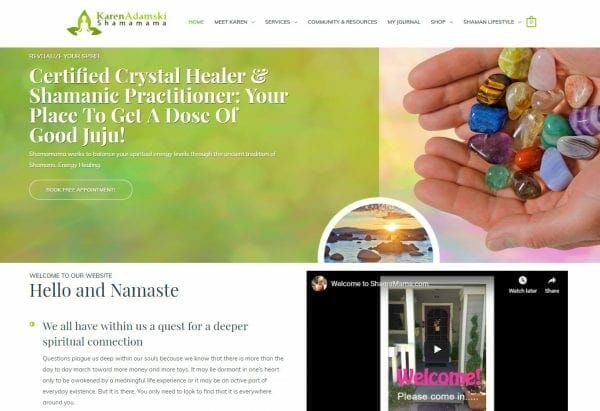 Shamamama is owned by a Certified Crystal Healer & Shamanic Practitioner Karen Adamski. She has held thousands of classes and personal healings, helping people to balance their spiritual energy levels through the ancient tradition of Shamanic Energy Healing.
It is an e-commerce site that sells classes and tickets to those classes
It has special programming to show the upcoming events in order of the one closest to today first before the others
It has a nice graphic for the cart that when you hover, it displays what's in your cart
It was redesigned and we imported over 100 blog posts and several hundred images
If you want to check it out, go to https://shamamama.com/