HELPING YOUR BUSINESS
Forty Whacks for Program Management - Whack #3: Ask For Results
In business, it's all about producing results.
Explain the situation and request help in getting the results you need. Sometimes you don't know the best way to get the result, so give your team member freedom to produce those results. They will respond well to being challenged and involved, and giving them authority may surprise you with them producing results even GREATER than you expected!
Is Asynchronous communication the future of team communication?
This type of communication can be more efficient as compared to Synchronous communication.
Synchronous communication means that there is an immediate response between two team members who are conversing.
Example 1: I walk to your desk and tell you something, you consume the information at the same time I'm sending it.
On the other hand, Asynchronous communication sounds like this:
Example 2:  I write you an email. I send you the email. You read it. You have consumed the information after I sent it — seemingly on your own time. This frees both parties from the need to be "synced up."
Asynchronous communication is the future of work because it allows us to communicate with higher agility and efficiency. This type of communication allows the receiver of information to respond in his/her own pace.
Benefits of Asynchronous communication:
Being able to build large stretches of focus time. (this is huge when you want to work ON your business for a while instead of IN your business)
Being able to communicate with a remote team (handy if you work with Virtual Assistants. Visit www.HireMyVA.com for more information about what we'll be launching soon).
Being able to look back at 'notes' or shared information (it's easy to forget the context of what someone was talking about).
Being able to digest and think about how to respond to a teammate (it's good to think!).
One of the biggest mistakes we can make is responding to email immediately unless we're in that block of time and someone has done this.
However, asynchronous communication can quickly cause miscommunication if you're not careful.
you can't read body language and thus you will tend to misinterpret people's intentions
the way a person communicates through email or chat doesn't always reflect what they really are saying
it can cause you to spend more time going back-and-forth
Often, we record videos to help us communicate, then those videos are sent by email; this works fantastic, and kinds of gets you the best of both worlds.
Read the full article here: http://blog.idonethis.com/asynchronous-communication
Use Google Ads for WooCommerce! More traffic = More Income
If you currently have an online store, Google Ads for WooCommerce might be a handy tool for you. It is the most effective way to advertise your store and increase revenue.
What are the benefits of Google Ads?
Customers can find your products easier
Get the most out of your marketing efforts through Google's automated bidding
Your marketing and store will be in sync. Google will only advertise products that are in your inventory
Easier to create shopping campaigns
How does it work?
Go to https://woocommerce.com/products/google-ads/ and build a campaign. (No credit card needed)Next
Select a geographic location you want to target
Select the store categories that you want to advertise
Select a budget
Purchase your campaign
Read the full article here: https://woocommerce.com/products/google-ads
SECURITY ISSUES AND UPDATES
The Limitations of Website Analytics
Here at Pro Website Creators, we give our best to track your website's monthly analytics. This includes the number of clicks your website gets, where the traffic comes from and more. But as technology develops, some browser tools make it impossible for Google Analytics to track everything to 100%. A good example of that type of a tool is an Ad Blocker.
Is it still possible to track if your website is doing great? The answer is Yes.
Instead of solely relying on Google Analytics there are other metrics that you can use to measure your site's performance. Examples of these are:
Number of orders/month (if you have an online store)
Cart Abandonment Rate
Rate of Returning Customers
Free Trial Sign Up
Number of Logins
Number of Registrations
Email Opens/ Clicks
and more
In conclusion, Google Analytics is very handy if used side by side with the metrics mentioned above.
Read the full article here: https://torquemag.io/2018/11/why-you-cant-trust-website-analytics/
THE SITE OF THE MONTH
www.backstory.com.au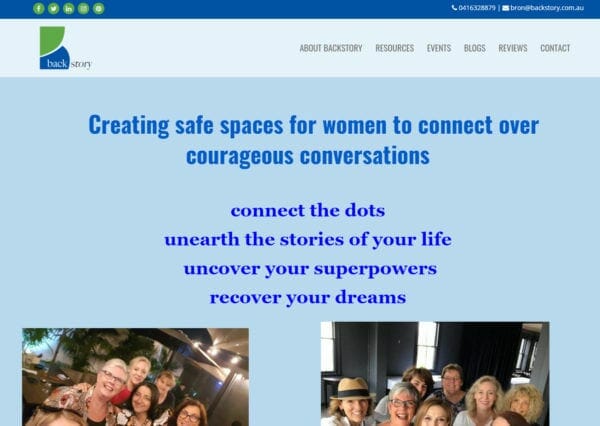 The brain behind the website is Bron Williams. With more than 30 years as a leader across the education and not-for-profit sectors, she is a creative communicator and certified trainer passionate about enabling others to uncover the unconscious factors that drive their lives.
With her own journey through domestic abuse, from survivor to thriver, she brings a breadth and depth of wisdom, learning, and insight through her programs.
Visit www.backstory.com.au for more information.