HELPING YOUR BUSINESS
Why is it important to define your company's Mission and Vision? (Part 1)
Having a Mision-Vision set is important whether you're operating a mom-pop business or a multinational corporation. These statements help your team members find their purpose or place in your organization and gives YOU guiding principles about why you do what you do.
Together, your Mission and VIsion provide the following for you and your team:
Guidance
Direction
Boundaries
Filters
Inspiration
Energy and Excitement
Kindles Passion (ability to suffer)
A vision statement is the Desired End-State, like "Clean water for everyone". It's a one-sentence statement that helps inspire you and your team so that you see the results of your work being manifest.
For example, our vision statement at Pro Website Creators is  "Every entrepreneur freed to unleash their true potential to help transform the world​". 
For us, this means we want to help you not only with your website but with other aspects of your business and life. For example, if you didn't know, Dave is a certified John Maxwell coach (like a life coach) as well as, with Larry Broughton, has helped hundreds of entrepreneurs in their lives and businesses.
We are also coming out with a program called "HireMyVA" where you can Hire and Thrive with a Virtual Assistant without Breaking the Bank! (More on this later).
So what's your Vision (desired end-state) for your company?
11 Things you start doing NOW to make this the best decade ever!
1. Romanticize your life
Most of us follow a daily routine and it can get dull over time. But "romanticizing" small things throughout your day, such as how good the warmth of the sun feels or how wonderful it is to hear your kids' laugh, will immediately boost your day.
2. Travel, Travel, Travel
Find the wonders of this world by wandering.
3. Be curious
Be creative. Find your inner artist even if you're not the dreamer type. Fall in love with yourself by rediscovering yourself in different ways.
4. Balance is the key
Too much work is not good as life is too short. Too much play will dull you down. Find your equilibrium and stick with it.
5. Shine
Don't be afraid to stand out and be different. Let your sparkle shine onto others.
Read the full article here: https://bit.ly/3aliQtY​
Security Issues/Updates
Windows 7 users, It's time for an upgrade!
Microsoft ended its official technical support for the out-of-date Windows operating system (Windows 7) on January 14, 2020.
There are still 200 million PCs around the globe, according to industry estimates, that uses this old OS. Users include small business owners, some larger companies, and hordes of consumers holding onto aging personal computers.
Purchasing a new PC will not be necessary if your existing system meets a baseline configuration. The update from Windows 7 to Windows 10 is free so there's no need to purchase anything.
Update your OS today.
Full article: https://www.technewsworld.com/story/86452.html
Gear up with your own custom merchandise!
No more unnecessary bulk buying!

We are going to be offering a merchandise printing service to our clients to serve you and to show you all the cool things we know how to do with e-commerce.
It's usually a hassle to get a customized t-shirt or hat or polo shirt done because of how printing companies often require bulk orders - why get 50 hats customized when you only need to use one for personal use?
Start wearing your own merchandise now! More info coming, including that we need a couple of our clients to try this out - will you be one of them?
Security Issues/Updates
Zoom Video Conference: Vulnerabilities
We personally use Zoom for our team and clients, and that's why this news caught our attention.
There's nothing to panic about unless you're in a super confidential meeting regarding sensitive information.
Maya Horowitz disclosed that Zoom has a bug that allowed others to join active meetings.
The team behind Zoom immediately issued security fixes asap.
Read the full article here: https://bit.ly/2uR3KgI
THE SITE OF THE MONTH
www.23rdveteran.org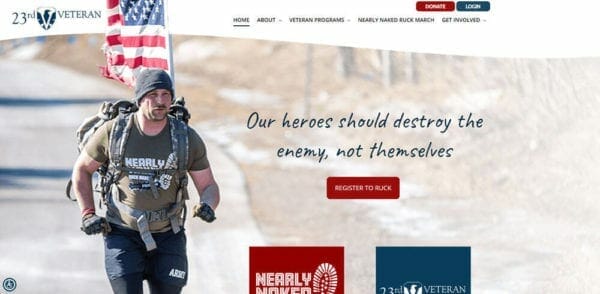 23rd veteran helps military & veterans who are living with trauma, and we just recently launched a redesigned, fully custom site for them.
They developed a unique 14-week mental health program that has freed veterans from a life of isolation, anxiety, panic, and depression. They help the brain relate negative triggers from military experiences to new positive memories and emotions.
Here is a heartwarming testimonial from one of their veterans:
Visit www.23rdveteran.org to get involved with helping out our heroes!
Have a great rest of the month, and let us know how we can help you!