Wow, did Dave mess up on his emails!
We will all mess up from time-to-time, but what sets us apart is how we work to recover from our failures!
Well, I was going to be getting a colonoscopy Monday, January 20, and I thought I should enable my out-of-office. I did that a couple of hours before my appointment.
Had never done it before...guess what happened?
For whatever reason, MacMail started generating a ton of emails! Some of you received my out-of-office notification many times with strange subject lines!
And the worse thing was, I got alerted when I was in the waiting room of my doctor's office, with no computer access. I was just about to head into the procedure and I'd be unable to do anything for several hours!
ARRGGGGHHHH!
Well, long story short, I ended up calling one of our vendors and we worked through suspending emails for the short term, so no more harm was going to be done. Phew!
Lessons learned when you have REALLY pressing problems as eventually, that will happen to all of us:
Choose vendors you can get ahold of with the phone (like PWC). Don't go cheap as you've worked hard to build your reputation and your business.
Don't panic - there's always a solution. Breathe and think.
Create a great relationship with your clients - when you mess up, they'll be totally forgiving!
Build redundancy in your business by having great vendors, team members, and systems that back you up.
Don't try something new technically when you won't be around to handle things if it goes belly-up!
And of course, you're wondering about the colonoscopy outcome - all good!
HELPING YOUR BUSINESS
Reminder: How to properly write dates this 2020
Make sure to spell out the whole year when writing dates especially when signing contracts.
Why is this important? Let's say you sign a contract for services and date it "2/4/20". Someone could then add "19" to the end of the year and say you signed it a year ago!
You'd be on the hook for whatever amount of money they say you owed them.
And no way to prove them wrong.
So make sure that when you sign and date ANYTHING, write out the full year.
Quick website and marketing tips with Dave Braun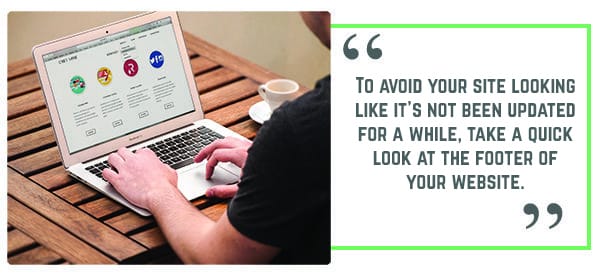 Things to check:
Make sure you have a copyright notice and
That copyright notice at a minimum should say the current year; ideally, it should have a start AND an end date. Something like this:
Security Issues/Updates
Windows 7 users, It's time for an upgrade!
Microsoft ended its official technical support for the out-of-date Windows operating system (Windows 7) on January 14, 2020.
There are still 200 million PCs around the globe, according to industry estimates, that uses this old OS. Users include small business owners, some larger companies, and hordes of consumers holding onto aging personal computers.
Purchasing a new PC will not be necessary if your existing system meets a baseline configuration. The update from Windows 7 to Windows 10 is free so there's no need to purchase anything.
Update your OS today.
Full article: https://www.technewsworld.com/story/86452.html
THE SITE OF THE MONTH
www.backstory.com.au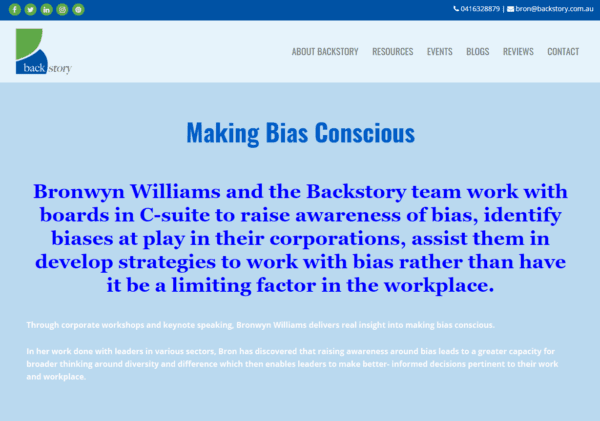 With more than 30 years as a leader across the education and not-for-profit sectors, Bron Williams is a creative communicator and certified trainer passionate about enabling others to uncover the unconscious factors that drive their lives.
With her own journey through domestic abuse, from survivor to thriver, she brings a breadth and depth of wisdom, learning, and insight through three unique programs: Backstory, The Sassy Women's Project and Six Pillars of Thriving. She's also recently added a new program called "Connect The Dots" that you can check out here: https://backstory.com.au/connect-the-dots-coaching-program/
Visit backstory.com.au for more information.
Have a great rest of the month, and let us know how we can help you!