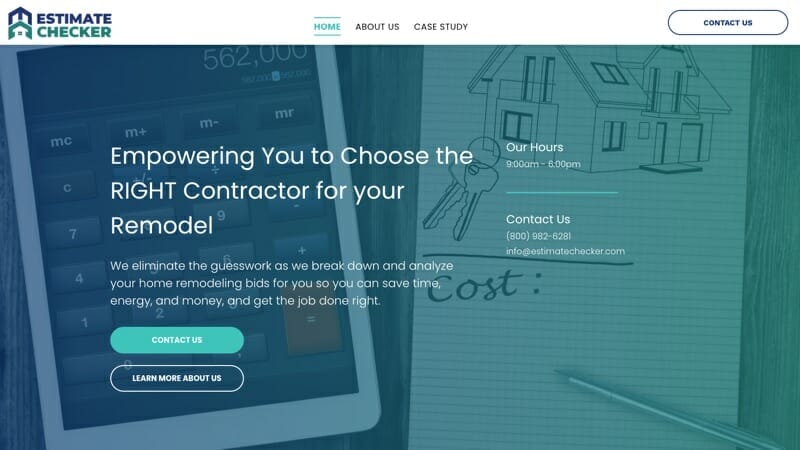 The Challenge:
Towards the end of a construction project, you either go "Get this done with, I'm never doing this again!" or "Ah, I love the outcome!"
It comes down to making sure your construction project estimate is good.
Bruce Frazier has been in the construction industry for over 30 years, and recognized how different each estimate someone gets, for a construction project, couldn't be compared easily. Different materials, sizes, difficulties of installation, do they meet code, companies, etc.
So Bruce has put together a company to help people take an apple-to-orange comparison, and make it an apple-to-apple comparison, saving them time, money, helping them have a safer project, and ultimately an outcome that is pleasing to them.
Since he's just getting started with this business, we decided our "one-week website" package was the best solution.
The Solution:
We did the following:
(a) helped him create the plan for someone to be successful, discussing with him numerous options and giving our recommendations to what makes sense.
(b) logo and color design to give people the right feel and information.
(b) content creation via an extensive interview and research.
(c) website design to reflect what his company is all about.
The Result:
https://www.estimatechecker.com/
Bruce said on his google review "Great Experience!! Dave and the crew at PWC made the website design process informative and transparent. The Client Scope Questionnaire was so helpful in determining what my business wanted and needed to express. Thank You!!!!! A+"